| | |
| --- | --- |
| | This page lists designs and outfits for Audrey Bourgeois. Both final and conceptual designs are presented here. |
Final designs
Audrey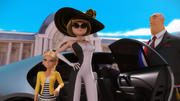 Audrey is a slender woman of fair skin. She has a round heart-shaped face, blue eyes, and golden hair cut short into a sharp bob with short bangs that frames her face. Her face is obscured by a pair of dark shades, which covers her eyes. Audrey physically resembles her daughter, except her hair, which is a couple shades darker of honey blonde.

Audrey wears a white sleeveless jumpsuit with a thick black stripe down the right side. The romper is long in length and bares around the shoulder blades. On her head, she adorns a black hat with black-and-yellow color stripes on the underside, yellow hat band, and a black-and-yellow flower on the left side. On her feet, she wears a pair of bright golden high-heel shoes. She also sports white evening gloves which reach up to just under her elbows. Her right ring finger is adorned with a gold ring with a modern design, though it is uncertain whether this is her wedding band or not.
First appearance: "Style Queen (Queen's Battle - Part 1)"
Style Queen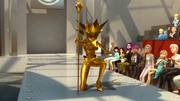 Style Queen has bright and sparkling golden skin. She wears sunglasses with dark shades over her eyes and her head appears to have pulled-back gilded hair in the style of a crown with five black pointed stones attached around the front. She wears a golden leotard designed with vertical strips of cloth, with a black strap on her left shoulder and pointed black edges around each leg. She has medallion high heeled boots. She holds a long gilded staff, having a bud-shaped tip with a black chevron line around it on top.

After being reakumatized in "Mayura", Style Queen's appearance remains the same, except her body is entirely red.
First appearance: "Style Queen (Queen's Battle - Part 1)"
Final design accessories
Apron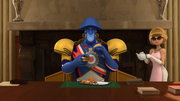 At one point, Audrey wore a pink apron while she was serving tea for Malediktator.
Only appearance: "Malediktator"
Conceptual designs
Old concept Audrey
Audrey was originally going to wear a black blouse and black pants with gold-colored buttons, a white faux fur jacket, black evening gloves, and yellow heels. Her hat was originally black with a black hatband, and it would have a yellow flower on the left side. Her gold ring was also originally going to be placed on her left ring finger, instead of her right ring finger.
Other
Community content is available under
CC-BY-SA
unless otherwise noted.