Jurassic World: Dominion Dominates Fandom Wikis - The Loop
Play Sound

"
It's time you finally started taking some risks Ladybug!
Go, my beautiful amok, and bring my creation to life!
"

—Shadow Moth, "Risk"
An Amok is a magically charged blue feather that manifests a Sentimonster from a person's emotions.
The feathers are used by Mayura and Shadow Moth, while Ladybug and Cat Noir are tasked with capturing and purifying them.
Appearance
Before it is turned into an Amok by Mayura, the feather is pure white. However, once it becomes an Amok, it turns blue.
Creation and Abilities
Mayura creates an Amok by taking a feather from her Hand Fan and charging it with magical energy.
The purpose of an Amok is to be sent off to possess an object belonging to a person with strong emotions, resulting in the establishment of a telepathic connection between the person and the Peacock Miraculous owner.
Once the person agrees to allow their emotions be manifested, the object containing the Amok releases a magical dark-blue ether that manifests a monsterous creature.
The Amok can squeeze through impossibly small spaces, even being able to move through the seal of a window pane.
The Peacock Miraculous owner can sense the presence of Amoks and either reactivate or revoke them, even if they belong to Sentimonsters that were manifested by a different Peacock Miraculous owner.
Fate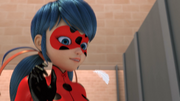 An Amok leaves the object it inhabits after the object is broken. From there, Ladybug can catch it with her yo-yo in order to "de-evilize" it by removing the magical energy from it. Afterward, once the Amok reverts back to being a normal feather, she releases it.
Sightings
Episodes
Others
Trivia
The phrase "running amok" is based on a Malaysian/Indonesian spiritual belief, where the state of "amok" was caused by a spiritual tiger being entering one's body and caused them to commit wild and violent acts. As a culture-bound syndrome, an individual, having displayed no previous signs of anger or violent tendencies, will suddenly acquire a weapon and begin to attempt to harm themselves and those around them.[1]

Ironically, the real concept of amok is more similar to Akumatization.

It is unknown what happens to an Amok if it isn't purified or where it goes after it's purified.
Unlike akumatized objects, which turn dark purple when an akuma has entered them, amokized objects remain the same. It's currently unknown why.

In "Reflekdoll", the amokized object, a hairclip, did transform along with its owner.
Gallery
| | |
| --- | --- |
| Click here to view the gallery. | |
References