Alya's room is the bedroom of Alya Césaire located in the Césaire apartment.
Appearance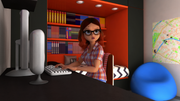 One of the walls in the room is orange with large gray panels, while two parallel and opposing walls are white.
The side with the gray wall mainly features a huge orange niche within the wall, containing a bookshelf with three levels, four round lights at the top, and a large white mattress bed with black zigzag stripes that is covered with black and gray pillows. To the right of the niche and in a corner is a blue beanbag chair.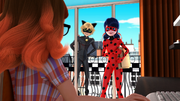 The wall to the left of the gray wall has a gray counter where Alya's computer is placed. There are also light gray and gray square shelves placed above it holding smaller items. On the same wall, there is a poster of Majestia Issue #56. The wall to the right of the gray wall features a large map. Directly across from the gray wall is a large window door surrounded by dark orange zigzag-fold curtains, and the door opens to a balcony with black detail rails and a potted plant.
Residents
Sightings
Episodes
Trivia
On the white wall opposite her desk, she has a map of Paris with small butterfly stickers on it in certain places. This could be a map of all the past akuma attacks.
It is shown in concept art that she may have a Ladybug symbol rug on her floor.
Gallery
| | |
| --- | --- |
| Click here to view the gallery. | |
v

•

e

Places
Real life places
Museums and Monuments
Parks and Rivers
Bridges
Other places
Cities
Outside of France
Community content is available under
CC-BY-SA
unless otherwise noted.