| | |
| --- | --- |
| | This page lists designs and outfits for Alix Kubdel. Both final and conceptual designs are presented here. |
Final designs
Alix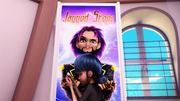 Alix is short and lean with blue eyes and messy bob-cut pink hair that, on the right side, is partially tied into a small side ponytail.

Alix wears a black cap with a black old English S logo that is outlined in white on the front. She wears a black long-sleeved, slate gray shirt underneath a dark brown tank top. Each sleeve has a lime green scale patterned fabric snake, starting from her shoulders and coiling around her arms until their heads stop at her wrists. She also wears black jean shorts with pink stitching and black lace at the cuffs, black 1/2 hose length socks with two pink horizontal stripes, and black high top shoes with pink lace, black and lime green checkered sides with a wavy orange line over it, and white soles.
First appearance: "The Bubbler"
Timebreaker
Timebreaker wears a black helmet with red spiked edges on the back and two green eye shields over each eye. She also wears a nearly black suit with lime green patches around her waist, around her lower hips and upper legs, and below her knees. Below her back of her wrists, there are glowing lime green ovals, and on her chest, there is a glowing red hourglass shape within a larger silver outline. Her rollerblades are black with two glowing white wheels on each one and a thin green line about the foot's ball and instep. A power bar is on the sides of the blades keeps tracks of her energy level, the lowest level being red and becoming greenish-blue at the top when it's full.
First appearance: "Timebreaker"
Bunnyx
She wears a baby blue and white bodysuit with pockets at her stomach, which has a black turtleneck with a white cotton ball attached. Her mask is blue at the top, and white at the bottom, and it has small sapphire–colored circles at the corners. She has white rabbit ears, which have black lining, and are baby blue on the insides. Her tool, an umbrella which is white on the outside, white and baby blue on the inside, with a white handle, is attached to her back when not in use. The Rabbit Miraculous, a white and blue pocket watch, is stored in her pocket.
First appearance: "Timetagger"
Rollerskating outfit
When Alix is rollerblading, she wears a black helmet with a pink strap and the same S logo from her cap. She wears dark gray elbow pads and knee pads with pink stitching and blue plastic covering. Her rollerblades are dark blue with gray cuffs, a black line in front of the toes, pink liners, and pink and lime green stitching. They also have orange laces and lime green buckles. The wheels are gray with lime green centers and pink bolts attaching them to the black frame.
First appearance: "Darkblade"
Knight minion
Transformed by Darkblade, Alix becomes a knight in dark gray armor with bright green designs on her epaulet and helmet.
First appearance: "Darkblade"
Reflekta duplicate
After Reflekta zaps Alix, she becomes a physical copy of her.
First appearance: "Reflekta"
Winter outfit
Alix wears a black hooded jacket with the inner lining, the hood strings, the edges of the sleeves, and the pocket outlines being green. She also wears a plain black cap.
First appearance: "Santa Claws"
In Tales from Paris, Alix wears a similar outfit, although she doesn't wear her dark gray shirt under her tank top, and the patterns on her sleeves are slightly different.
Final design accessories
Watch
Around her wrist, Alix wears a modern touchscreen watch that has a gray strap with white buckles on the sides.
First appearance: "Timebreaker"
Comic designs
Lacrosse uniform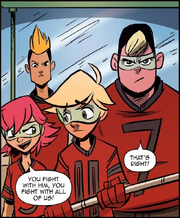 Alix wears a clear green visor over her eyes. Her lacrosse uniform consists of a red short sleeve shirt with dark gray stripes and black shorts with a red stripe. Her shirt has a dark gray 5 on the front and back. She wears dark gray pads on her elbows and legs, and on her hands she wears red padded lacrosse gloves. Finally, she has on a pair of white lacrosse cleats.
First appearance: "Miraculous Adventures Issue 1"
Conceptual designs
Concept winter outfit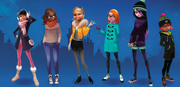 While the outfit is about the same as a final version, Alix also wears a black and green checkered knit cap with a pink pompom on top, a solid black bottom edge, and the S logo in green on the front of the cap in the black bottom area.
Community content is available under
CC-BY-SA
unless otherwise noted.