"
Man, [Mireille] crushed you, eh? Better luck next time! …What's the big deal? You only lost by half a million votes!
"

—Alec, "Stormy Weather"
Click here to see quotes from Alec Cataldi.
Alec Cataldi is a French TV host.[4]
Appearance
Physical appearance
Alec is tall, having tan skin, dark brown eyebrows, and dark brown eyes.
Civilian attire
He wears a light blue T-shirt with a V-neck and two buttons below the collar, white pants, and black and white sneakers. On his left wrist, he has a black woven bracelet with white clasps, and on his right wrist, he has a leather wristband with a silver buckle.
For more of Alec's outfits and designs, see Alec Cataldi/Designs.
Personality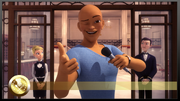 Alec is enthusiastic and engaging. He enjoys presenting on television, and he tends to be optimistic. Sometimes, he can be unintentionally insensitive, like with Aurore Beauréal when she loses the KIDZ+ competition in "Stormy Weather", or when he mocks Mr. Damocles for his attempt at being a superhero in "The Dark Owl". With Wang Cheng's loss during the finale of World's Greatest Chef contest in "Kung Food", though, he shows a bit of sadness. He knows when to take a situation seriously, especially when akumatized villains are involved, as he listens to Ladybug's warning about XY's life being in danger and immediately cancels an interview with XY to get him to safety in "Guitar Villain". Outside of hosting television shows, he gets along well with others overall, including his co-worker Nadja Chamack.
Abilities
Alec is talented at being on television, knowing how to relay information, and interact with people that are often contestants and interviewees depending on the show.
Sightings
Episodes
Others
Trivia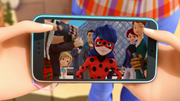 His last name, Cataldi, is written on the advertisement at the entrance of the TVi studio in "The Puppeteer".
Gallery
| | |
| --- | --- |
| Click here to view the gallery. | |
References
v

•

e

Characters
Parisians
Teenagers
Children
Adults
Animals
Groups
Characters from the past
Miscellaneous
Future characters
Community content is available under
CC-BY-SA
unless otherwise noted.