Boba Fett Returns - The Loop
Play Sound

This article is about the character. You may be looking for the sentimonster.
"
Welcome to "Live Your Childhood Dream"! And now, we're gonna love one another, starting with everyone loving themselves! Because how are you gonna love other people if you don't love yourself? Welcome to "Live Your Childhood Dream"!
"

—Alec, "Wishmaker"
Click here to see quotes from Alec Cataldi.
Alec Cataldi is a French TV host and a good friend of Nadja Chamack.[4]
In "Wishmaker", after he came to regret his life choices and not following his childhood dream, Alec was akumatized into Wishmaker, a childhood dream supervillain who can turn people into what they wanted to be when they were children. He also receives a Magical Charm from Ladybug that prevent him from being reakumtized again.
Appearance
Physical appearance
Alec is tall, having tan skin, shaved head, thin dark brown eyebrows, and dark brown eyes.
When he was a kid, he used to have a big red afro.
Civilian attire
He wears a light blue V-necked T-shirt with two buttons below the collar, white pants, and black and white sneakers. On his left wrist, he has a black woven bracelet with white clasps, and on his right wrist, he has a leather wristband with a silver buckle.
As Wishmaker
As Wishmaker, Alec's skin turns dark mulberryish gray, and he has moderate mulberry colored eyes. His head is covered in black head cover with white eyelids that reaches to his lips, and his lips are painted with black lipstick just like people's lips who gets infected with Kim's form of Dark Cupid's arrows. He also wears a black and white shoulder pad bodysuit with white diagonal, horizontal, and vertical stripes that are connected to each other. Just like Juleka's form of Reflekta, Wishmaker wears a pair of black thin rectangular platform shoes with medium gray triangular high wedges on his feet. He also holds a adult length baton with microphone on top.
For more of Alec's outfits and designs, see Alec Cataldi/Designs.
Personality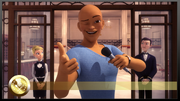 Alec is enthusiastic and engaging. He enjoys presenting on television, and he tends to be optimistic. Sometimes, he can be unintentionally insensitive, like with Aurore Beauréal when she loses the KIDZ+ competition in "Stormy Weather", or when he mocks Mr. Damocles for his attempt at being a superhero in "The Dark Owl". With Wang Cheng's loss during the finale of World's Greatest Chef contest in "Kung Food", though, he shows a bit of sadness. He knows when to take a situation seriously, especially when akumatized villains are involved, as he listens to Ladybug's warning about XY's life being in danger and immediately cancels an interview with XY to get him to safety in "Guitar Villain". Outside of hosting television shows, he gets along well with others overall, including his co-worker Nadja Chamack.
In "Wishmaker", it's revealed that the reason behind his mocking attitude during his shows has to do with the frustration he has been feeling for not been able to make his childhood dream come true out of fear of being mocked, just like when he used to be mocked for his big hair, what also caused him to shave his head. After being deakumatized, he came to embrace his dreams and becomes the television host he wanted to be, encouraging others to follow their dreams.
As Wishmaker, he insists on making people live out their childhood wishes, a desire born from a belief that he wasted his life not pursuing his own dreams because others always made fun of him. He does not seem to care that the wishes he makes real cause chaos or if his targets want their childhood wish to come true, believing he is making them happy.
Abilities
As a civilian
Alec is talented at being on television, knowing how to relay information, and interact with people that are often contestants and interviewees depending on the show. During those shows, he is both capable of bringing the best or the worse on a person, by either highlighting one's qualities or exposing their flaws in a mocking way.
It is shown in "Wishmaker" that he is skilled at playing the guitar, despite not owning one. He usually plays the guitar using an app on his smartphone.
As Wishmaker
Wishmaker is able to fire flying rainbow stars at any target he wants by using his microphone scepter. Once a person is hit by a star, their childhood dreams will turn into reality even if the targeted person doesn't remember them. He is capable of firing two stars at once. According to Ladybug, the targets of Wishmaker are unwillingly forced to live their childhood dream(s), meaning they have no control over it, regardless of whether or not they actually enjoy it. The only weakness is that he has no offensive capabilities and apparently can't undo them once the person's dreams came into reality as when a man turns into a Dino Huggie he attempted to attack him with no effects.
He has a degree of combat, using his microphone scepter as a staff. Additionally, he is very agile, being able to leap onto rooftops.
Sightings
Episodes
Others
Trivia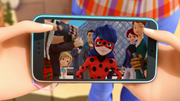 Alec's costume in that scene is also highly reminiscent of a drag queen like RuPaul.

Thomas Astruc stated that Alec doesn't need labels anymore.[5]
Gallery
| | |
| --- | --- |
| Click here to view the gallery. | |
References
v

•

e

Characters
Parisians
Teenagers
Children
Adults
Animals
Groups
Characters from the past
Miscellaneous
Future characters