Adrien's bracelet is a gift that was given to Marinette Dupain-Cheng by Adrien as a present for her birthday in "Befana".
Appearance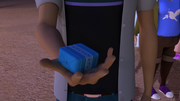 The lucky charm bracelet is made from red string, which is tied in a loop at one end for when the bracelet is not tied to a wrist. The bracelet has nine beads:
a parallelogram-shaped moderate amber bead,
a coin-shaped bead of the same color,
a parallelogram-shaped strong cyan bead,
a bird-shaped moderate amber bead,
a short, cylinder-shaped strong blue bead,
another parallelogram-shaped strong cyan bead,
a spherical blue bead,
a tiny, pale, light grayish cerulean bead,
and a bell-shaped moderate amber bead that hangs off of the end on a metal loop. This is meant to go through the loop on the other end to wear as a bracelet.
Sightings
Episodes
Trivia
v

•

e
Objects
Technology
Computers
Cellphones
TV channels
TV shows
Clothes and accessories
Clothes
Bags
Jewelry
Other accessories
Gabriel
Other objects
Marinette's creations
Books
Art pieces and artifacts
Films
Dolls
Foods
CDs
Miscellaneous
Community content is available under
CC-BY-SA
unless otherwise noted.