Here we are, with another announcement. You can see from the title that we are gonna have a serious talk on mini-mods again...
We have been ignoring this problem for a while, up to a point when it started to surround is from everywhere. It has got to stop, and for that to happen, we are gonna set the limits and enforce them.
WHAT IS A MINI-MOD?
One accurate definition:
A normal user that takes it upon themselves to push rules and tell everybody how to conduct themselves instead of leaving it up to the mods. Typically reserved for people that don't know what they're talking about, act like they have some kind of authority, and/or are obviously doing what they're doing to try to score points with the real mods and become moderators themselves (especially if it becomes a regular thing for them and/or they don't contribute much good to the community otherwise).
EXAMPLES OF MINI-MODDING
So, we don't completely discourage helpfulness, like helping out with categorising or things like that. Being helpful is always great, but because of this specification, I'm afraid users have started to push the limits:
"To avoid getting banned" in welcome messages. Do you really want that to be the first thing a new community member sees on here? A more direct form ("You will get banned if (X)") was always considered mini-modding, so this one is on the limit tbh. Some started doing it, others followed the example. So now instead of a warm welcome new users will get "do not do anything to get banned"?.. Kinda scary, don't you think?

Continuously correcting. Users, specifically new ones, tend to accidentally break the rules. These rules are usually small things such as going off-topic, swearing, mis-categorizing, or giving illegal episode links. It is completely alright if you want to correct them, but you should do so in a manner which is kind. If others have corrected them, even if it was only one person, then leave the matter alone. Several users have left our community due to many users correcting them after they broke a simple rule. We understand that some people don't check the comments before correcting, so if you do correct after people have already done so, an apology would always be nice. It doesn't feel nice when 5 people are criticizing you, so if one person has already corrected, then that is more than enough. If the user still continues to swear, go off-topic, or give episode links, then that becomes a problem. For mis-categorization, that is not a big problem and the Discussions Mods will try their best to fix it as soon as possible. Overall, just be kind and thoughtful about it.

Fighting trolls. Recently, several users were warned for dealing with a troll. Some of them are new and don't know how to act when a troll shows up. But what about the most experienced? The trolls disrespect users, sure. But don't do it back, two wrongs don't make one right. We've had several sockpuppet attacks. And every time a new sock shows up, they call out the same old users, and those users reply. So the troll achieved what they needed: annoy those who prove that they can be annoyed. I have never seen a troll post with 0 comments, excepting those that we saw and deleted on the spot. One troll post actually got 100 (!) comments before anyone even thought of reporting... This leads me to a "how to deal with trolls" section, which is at the end of the post.

Rude, wrong or bossy. Originally, those were our three NOs against mini-mods. And they are still key when spotting them. Some users (including trolls) point out how bossy others are when enforcing rules (acting like they actually have power). Other times, the correction is not even right, so both the one who said it and the one who read it now have a wrong view of the rules. And of course, there is always being rude: passive aggressive, sarcastic, or just hurting other users' feelings. To avoid the latter, try to use softening emojis, words, "could" instead of "do", etcetera. It's really not that hard.

Acting like you have power. I know, this is a continuation of bossy. But it has become so diverse that it needs a separate section. I was horrified to discover warnings made by regular users, and not just that but "I've warned you already". Or "(X) or your post will get taken down". Don't talk about consequences. Softly explain the rules, not what will happen if they're not followed. That's what the staff is for. If by giving out serious warnings you feel like you're gonna become a staff member, it's not gonna happen. When staff hands out warnings, we start it in a neutral or even soft fashion. And we always discuss our actions with people who have been at it for years and know what they're doing. Being helpful, showing rules, contributing to the conversation? Do it! Bashing the user and "warning" them? Sorry, but that makes you no better.
HOW TO DEAL WITH TROLLS
Report using the button. I'll be clear: the next time there's a troll attack, I want there to be 0 comments. And at least 5 reports. Maybe the fact that you don't see how reports work makes you unsure, so I'm sharing an admin's view of the procedure: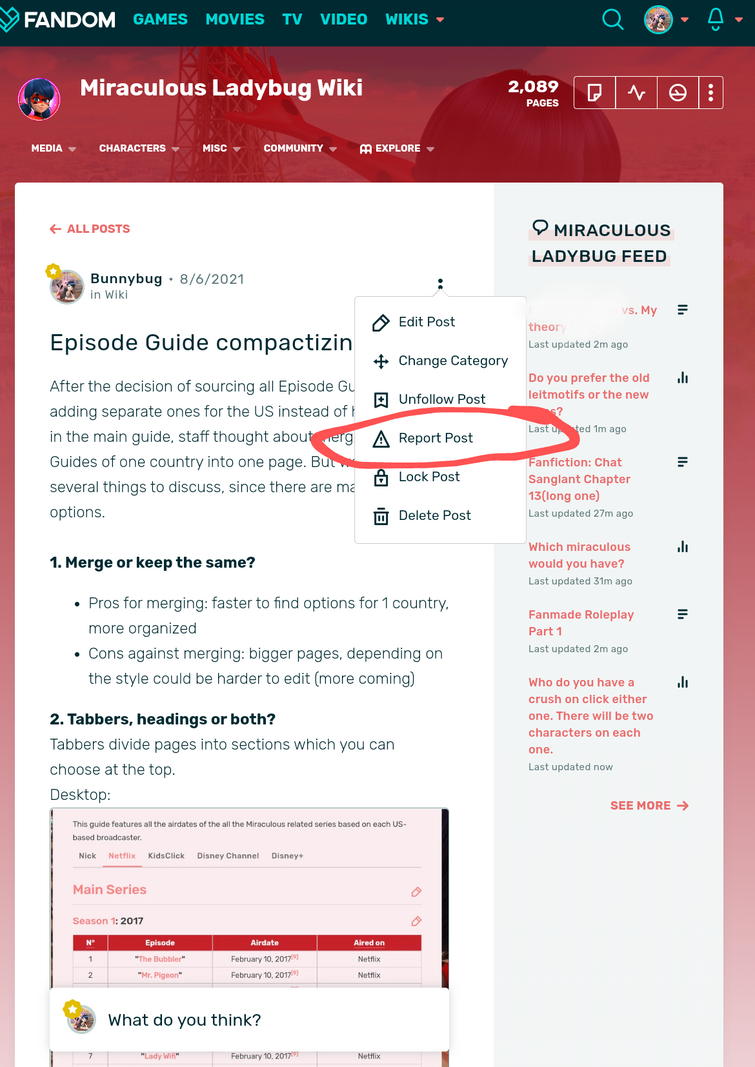 Report.
Yes.
We see who reports stuff.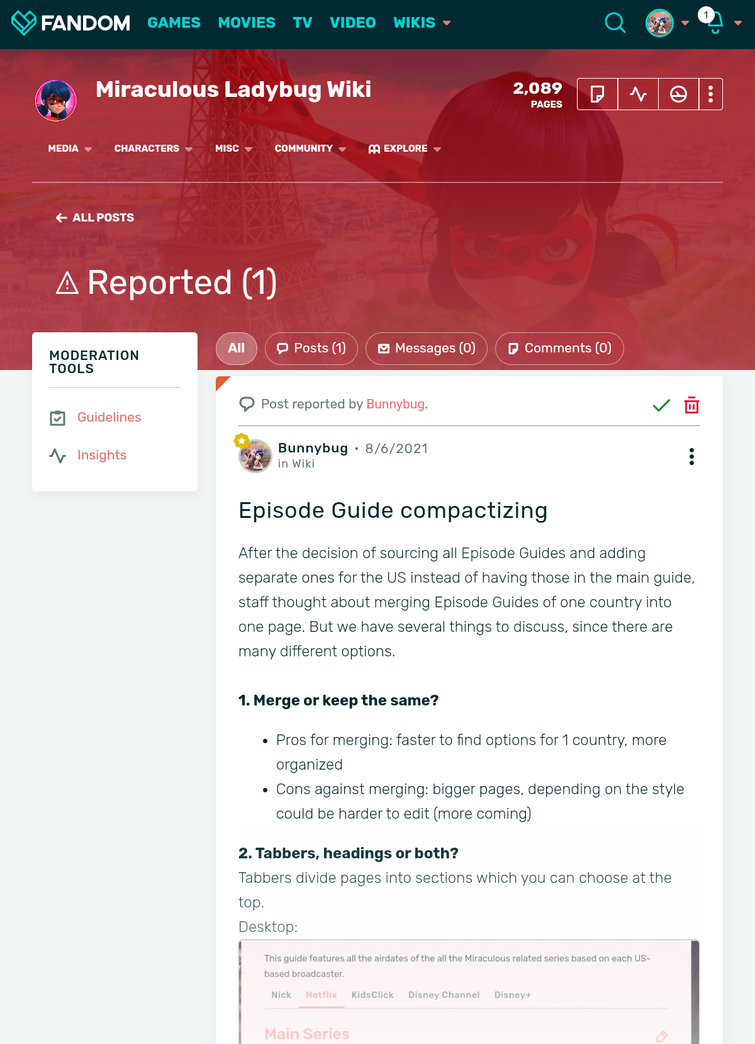 We are the ones who deal with the stuff, so don't report our messages, lol.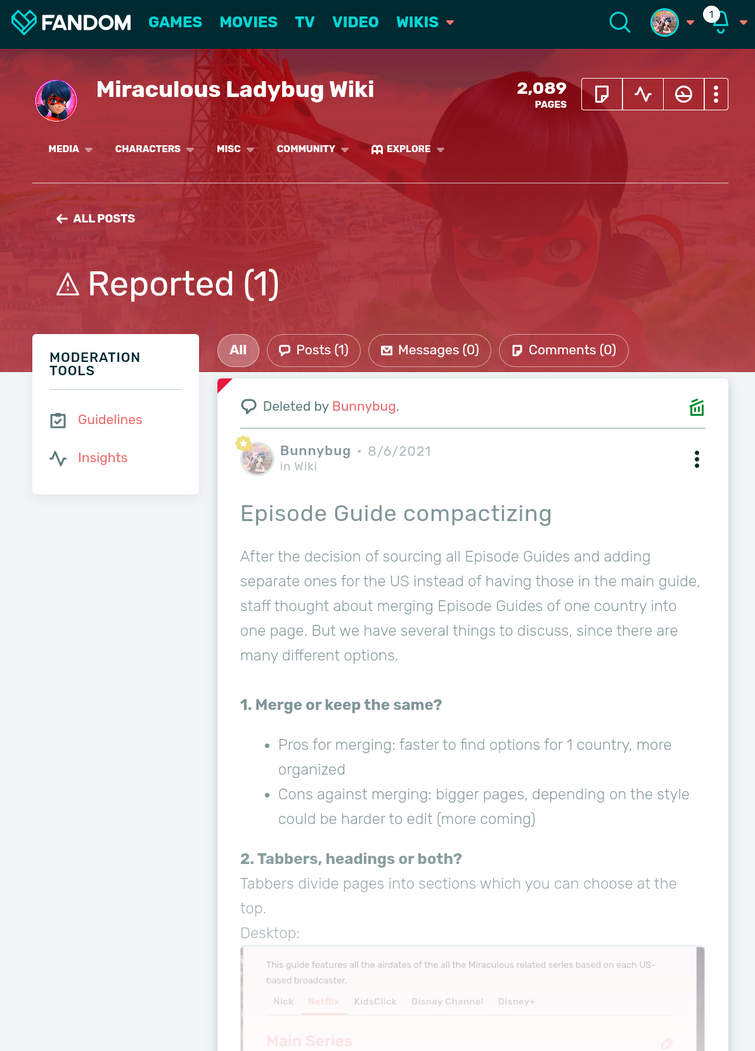 We can delete...
And/or restore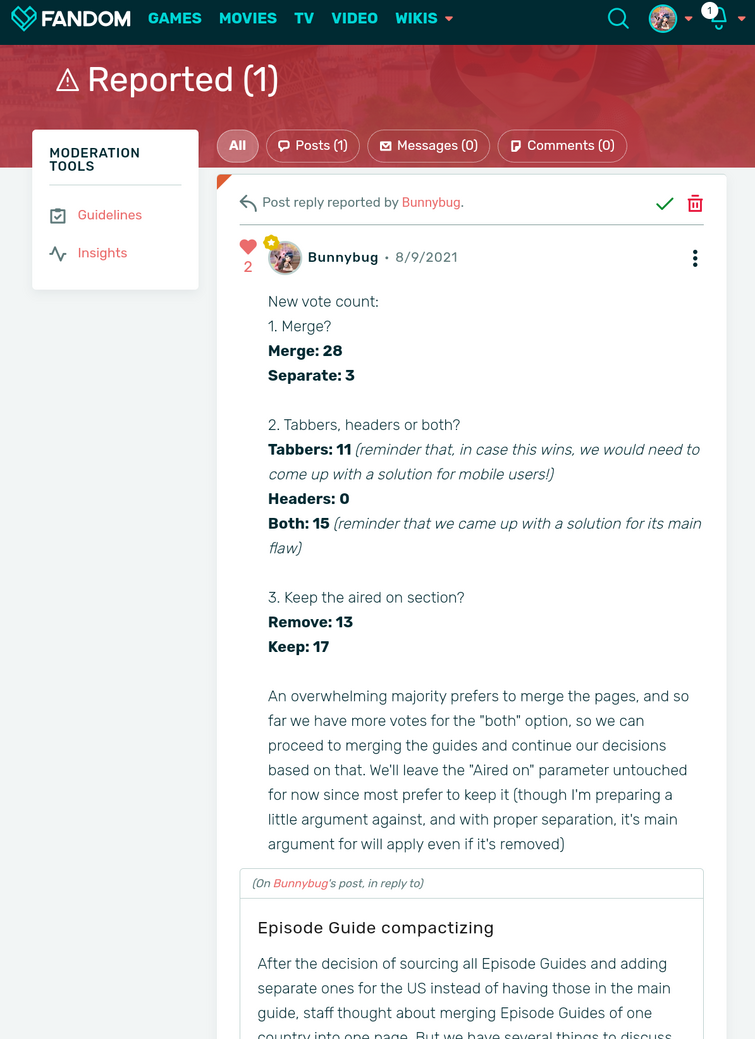 This includes comments
You ping staff? Good, but the troll will see that and target you. You add something else to your comment? Worse. You message staff? Sure, why not? But the staff member you're reaching out to might be offline. So just use the report button if you see a troll. If it's too serious though, you may ping staff (like B bee 430, PandaJJMusic or me), but then immediately unfollow the post to avoid getting trolled.
Another issue: not every rule-breaker is a troll. Trolls usually break rules that a person with no bad intentions would never break (mainly harsh swearing, jumpskares and inappropriate content). Whereas users who accidentally break rules could use mild swearing, illegal sources for episodes, many posts per day, uncredited art or other less universal rules. Again, in this case, 1 user softly telling them where they went wrong and a link to the rules, along with some comments on the post itself, is the best situation. Don't intimidate these users with staff pings, and only report if the post is too old for them to edit or needs to be deleted.
One last thing. We're against mini-modding, and that includes telling off a mini-mod. Please, if you have issues, contact staff if it's private but not urgent, tell users softly if it's really minor, and report if there are trolls. We're counting on you to bring back the glorious Famdom days!
PS: messaging staff on walls can take a while. One quick way to report stuff directly to us is though direct messages on Discord. You can ask us questions on our Discord server: https://discord.gg/GnGS8nJPfQ